Meet four Authorized Cannabis Retailers finding exciting ways to commemorate a 420 milestone.
This year marks 50 years since 420 had its humble start as a meeting time for a group of young adults in California. Since then, it's come to signify so much more, including the long road to legalization and the people who helped get us where we are today.
It's a big anniversary — not one to be overlooked, even during a pandemic. And even though Retailers can't invite their communities into their stores for a big celebration, many are still finding fun and creative ways to mark the occasion. We spoke to four Authorized Retailers who are celebrating this April 20 with customers and the community in mind.
Canvas Cannabis is celebrating 420 by giving back to the neighbourhoods surrounding their three Toronto stores. Building on their ongoing commitment to community wellness, Canvas Cannabis is using the occasion to support nearby shops that have lost business due to COVID-19.
From April 20 to 27, each Canvas Cannabis store is partnering with nearby businesses to offer customers a community passport with discounts and offers, to promote local shopping. "Encouraging our customer base to support local independent businesses is one way we can help," says Lana Paraskevopoulos, general manager.
At Den Cannabis, April is 420 education month. Available over the phone for one-on-one appointments, Den Cannabis budtenders are recommending new products to try and encouraging customers to ask questions — all in an effort to reduce cannabis stigma.
"Many customers are still very unfamiliar with cannabis products. We hope to provide customers with a little nudge into trying something new and exciting, whether it's their first cannabis beverage, or a bubble bath with an infused bath bomb," says Mike Tyssen, store manager. Serving customers at three locations in Barrie and the surrounding area, this month-long 420 event leads up to the big day.
The We Store is honouring 420 with a good old-fashioned celebration. From now until April 20, four different We Store locations across the Chatham and Windsor areas are offering We Store swag to all curbside customers and hosting carnival-style guessing games over Instagram Live. Despite the current stay-at-home measures, local 420 revellers will still be able to enjoy some safe and socially distanced fun. "Customers smiling and enjoying this special occasion is our main motivation for hosting this event," says Mohammed Zahid, general manager at one of We Store's Windsor locations.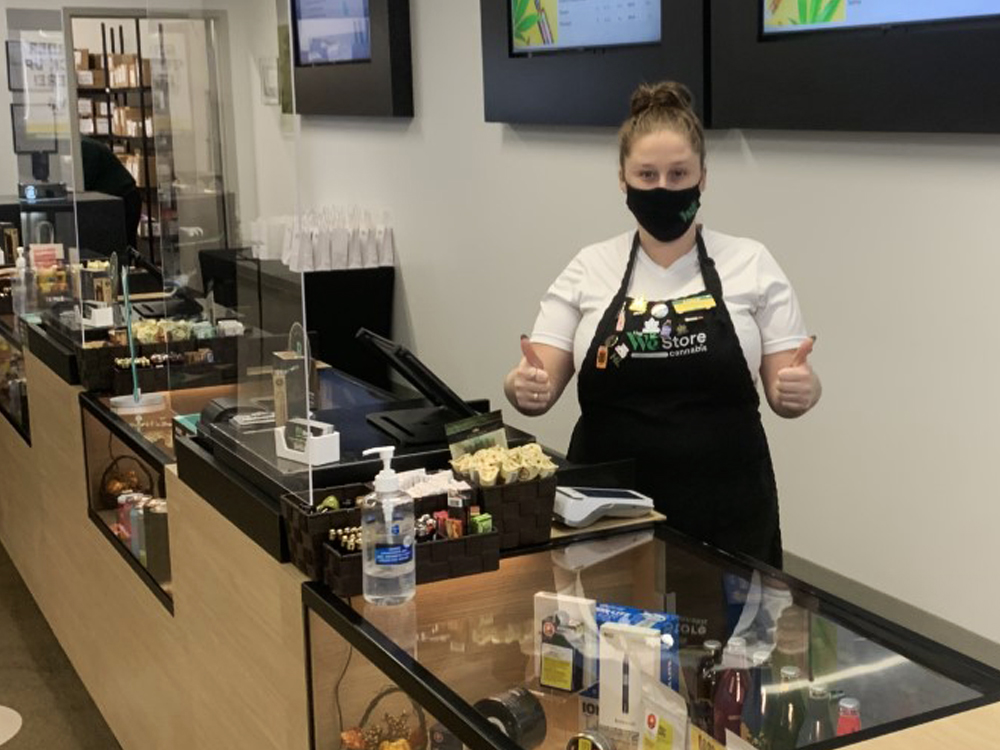 Matchbox Cannabis is ringing in 420 by rolling out a cannabis concierge service at their Toronto and Sault Saint Marie stores. The service is designed to provide one-on-one education about cannabis, the history of 420 and cannabis culture.
"We are emphasizing education, highlighting products like CBD, THC, sativa and indica hybrids and explaining how cannabis is grown," says Vlad Parkanski, CEO. Led by Matchbox staff and Licensed Producer partners, this virtual service (also accessible by phone) is available from now until April 20.
With 50 years of 420, and over two years of legal cannabis in Canada, there's a lot to celebrate this April.  No matter how you're marking this occasion, we hope you have a happy 420 and, as always, please stay safe!