Retail Activation Opportunities
In partnership with OCS Joint Business Planning, we have developed a Retail Activation Plan to support collaboration between the OCS and Authorized Retailers. Together, we can benefit from key retail periods and deliver greater consumer value.
Our Retail Activation Plan is designed around five annual transaction-focused retail events and includes a featured product that will appeal to the targeted consumer segments. These strategically timed and seasonally themed three-week retail events occur one to two times per quarter. 
Here's Why You Should Participate
Drive customer transactions in store during key periods
Gain consumers who are interested in discovering what's new
Build baskets incrementally
Our Retail Activation Plan for 2021-2022 includes our five annual retail events, four product launches and our quarterly content calls.
Product Launches
Get ready for new, innovative products! We launch between 50-300 products across all categories four times a year, visit our New Products page for the full list.
Content Call
Want to see your store featured in OCS content? We post quarterly content calls, and all Authorized Retailers are invited to apply.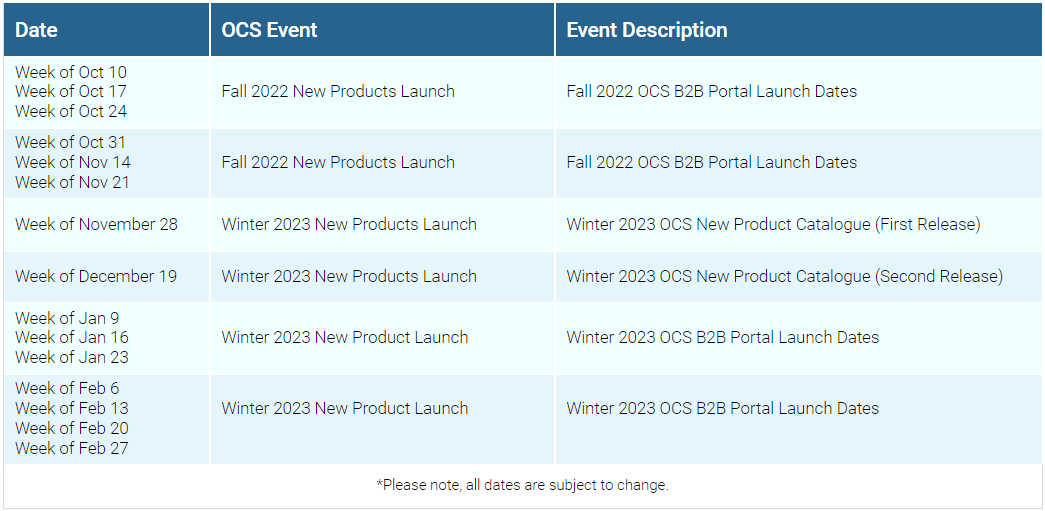 Last updated: November 21, 2022
This information is for Authorized Retailer use only, confidential, non-binding, non-exhaustive and subject to change. All information is provided "as is", with no guarantee of completeness, accuracy, timeliness.