From Santa snaps to sweet giveaways, these spots will be celebrating the holidays in style.
For so many Authorized Cannabis Stores who opened their doors just as lockdowns began, this is the first real holiday season they're able to share in-person with their customers — and they are pumped. After such a challenging time, there's lots of pent-up excitement to go around, and these stores are sharing the joy through charitable giving and a whole host of holiday activities, including prizes, snacks and even Santa photos. Why should little kids have all the fun?
The Spot Cannabis Co.

Burlington and Waterdown
---
If you'd like your cannabis shopping with a side of hot cocoa or apple fritters, then The Spot may be your spot. Both locations are partnering with local businesses to provide special holiday-themed snacks on key shopping days (Christmas Eve and Boxing Day) and, all December long, there will be "doob tube" ornaments on their "Kushmas" tree. "They'll be filled with special offers like get a lighter for a dollar or a penny pre-roll," says manager Kendra McCalla. "Guests will be able to pick from the tree and see what they get!" Each store will also be running a 12 Days of Holidaze promotion from December 1–12 and a food donation drive for local food banks. "You get that holiday vibe when people are out shopping in the mall and we want to continue that feeling in your local dispensary," she says. "It's our first holiday season and close to our one-year anniversary, so it's just an exciting time."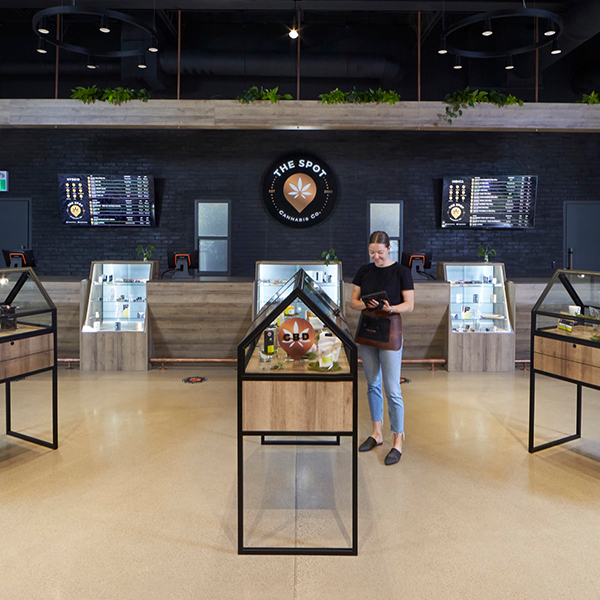 Wonder Pot

Eglinton and Bloor St., Toronto
---
Cannabis Consumers who have been very, very good this year can get a free photo with Santa himself on December 11 and 18 at the Wonder Pot stores. (Even Santa needs a little time off with the grown-ups.) "And all of the Wonder Pot stores will be fully decorated for the holidays. It's just a little festive fun." says store manager Roderick Balgobin.
Starting December 1, the stores will be giving out free cups of hot chocolate and warm apple cider, and the Wonder Pot elves will be slipping mints and candy canes into each shopping bag with every purchase. They're also running an IRL Advent Calendar of promotions, with a different sale for each of the 24 days leading up to Christmas. "We love having fun with the community, especially at this time of year when it's so joyful," says Balgobin. "People are joking around and hamming it up — you just want smiles on everyone's faces."
Dimes Cannabis

Toronto and Thornbury
---
Dimes Cannabis' Queen Street location in Toronto is in the heart of one of the hippest strips in the city, so it makes sense that they'll be partnering with some of the coolest restaurants, bakeries and beauty spots — as well as their favourite Licensed Producers — to give their customers a little lift this holiday season.
On December 18, Dimes Queen Street will be celebrating the holidays and its one-year anniversary by letting customers pop balloons that contain mystery prizes. Assistant manager Alex Howarth doesn't want to give anything away, but past partnerships have come from the likes of Crosley's, Bar Piquette, Forno Cultura and Naked Beauty Bar, so the bar is high. Both the Toronto and Thornbury Dimes locations will be running a 12 Days of Giveaways contest, where customers can enter to win a bag full of fun branded merch. The Queen Street location has also partnered with the nearby Parkdale Food Bank to collection donations. "Everyone has had a few rough winters," says Howarth, "so we just want to bring some light to the street and give something fun back to the people who have supported us."
Trees Cannabis

Six Locations Across Ontario
---
In addition to running food drives for local food banks at all their locations, Trees is planning lots of in-store customer treats for the "holidaze," including pop-ups with Licensed Producers, 12 Days of Kushmas daily deals in December and free gift wrapping. They'll be putting together all sorts of holiday-themed bundles for easy gifting and, in a move that's very fitting for a brand that started out as a Compassion Club back in the day, each store will be partnering with a local non-profit to help brighten the holidays for a family in need. "We just want to help families have a great Christmas," says regional manager Francesca Paquette. And as for those holiday tunes? "Oh yes — our team will definitely be playing holiday music! It adds to the vibe."
Of course, these aren't the only events scheduled for the holidays. Be sure to check your local cannabis stores for lots of different ways to celebrate this season